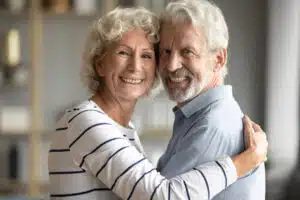 A dental bridge is a fixed oral prosthesis that replaces one or more missing teeth. It consists of two dental crowns on either end and one or more artificial teeth in between. Bridges can be made from various materials such as porcelain, gold, or alloys, giving patients a natural look and feel. 
If you want to learn everything you need to know about dental bridges, including how they work, the benefits, and the procedure you should expect when getting a bridge, look no further than Dr. Glen Stephenson and Prevention Dental. Dr. Glen Stephenson and his team have made scheduling as quick and easy as possible for their patients. With just a few clicks online or a simple phone call, you can schedule an appointment that suits your schedule. 
Prevention Dental understands that oral health is essential, and we strive to ensure that our patients receive the care they need when they need it. We know that finding a trustworthy and reliable dentist can be challenging, so we work hard to provide exceptional care and service to our patients in Boise, Meridian, and beyond. We look forward to seeing you soon and can't wait to show you how we can bring back your smile with our restorative dentistry, cosmetic dentistry, family dentistry, and more!
Dental Bridges For a Complete Smile
Do you have a missing tooth or teeth? A dental bridge may be the solution for you. We use dental bridges to fill the gap caused by a missing tooth or teeth. The bridge is anchored onto healthy teeth on either side of the gap, called abutment teeth. The process involves prepping the abutment teeth to fit with two dental crowns. The crowns hold the bridge in place, and the artificial tooth/teeth fill the gap, restoring the patient's smile and improving their bite.
Benefits of Dental Bridges
Dental bridges offer a variety of benefits for patients who suffer from missing teeth. For one, they enhance your appearance, making you feel more confident about your smile. They also make it easier for you to chew and speak and can prevent your remaining teeth from shifting to fill the gap. Dental bridges can also help you maintain your facial structure and reduce the risk of gum disease and tooth decay.
The Procedure for Getting a Dental Bridge
 At Prevention Dental, we understand that dental bridge placement can be daunting, so we've prepared this guide to help you understand the steps involved.
Consultation and Examination
The first step to getting a dental bridge is to schedule a consultation with Dr. Stephenson. During the consultation, he and his team will examine your mouth to determine if a bridge is suitable for you. We will check the condition of your teeth, gums, and bone structure to evaluate the health of your mouth. If a bridge is an option, we will discuss the type of bridge appropriate for your needs.
Preparation for the Bridge
To prepare your teeth for the bridge, Dr. Stephenson will remove a small portion of the enamel to create space for the bridge. Next, he will take impressions of your mouth to create a mold of your teeth. We will send the mold to a dental lab where skilled technicians will create a custom bridge that fits your mouth perfectly. During this process, we may give you a temporary bridge to wear while you wait for the permanent one to be made.
Fitting of the Bridge
Once your custom bridge is ready, Dr. Stephenson will remove the temporary one and fit your new bridge. He may make minor adjustments to ensure the bridge fits your mouth comfortably and securely. Once the bridge is in place, you will need to take extra care of your dental hygiene to avoid complications. Our team will provide you with instructions on how to clean and maintain the bridge properly.
Follow-Up Appointments
After the bridge is fitted, we will schedule some follow-up appointments with our team. During these appointments, Dr. Stephenson will check the fit of the bridge and ensure that your mouth is healing well. He may also provide you with additional instructions on caring for the bridge to ensure its longevity. It's essential to keep these appointments to avoid any complications that may arise.
Caring for Your Dental Bridge
Dental bridges require proper care to maintain their function, durability, and longevity. With proper care, a dental bridge can last for many years. Brushing and flossing your teeth and your bridge is essential to remove any food particles or plaque. You can also use an antibacterial mouthwash to maintain good dental hygiene. It would be best to visit your dentist regularly for cleanings and checkups to ensure your bridge is in good condition. Avoid biting on hard or sticky foods, as they can damage your bridge. Also, wear a nightguard if you grind your teeth at night to prevent damage to your bridge. If you're experiencing discomfort or have concerns with your bridge, don't hesitate to contact your dentist.
Quality Dental Bridges in Boise
Maintaining good oral health requires consistent efforts in preventive dental care. At our convenient location, we're proud to serve not only Boise and Meridian but also the surrounding areas. Dr. Glen Stephenson and his dedicated team of dental professionals are committed to providing top-quality preventative dental care, from routine cleanings to comprehensive exams. 
We understand that dental health plays a significant role in your overall well-being, and we strive to provide a comfortable and stress-free experience for all of our patients. So whether you're due for a routine checkup or need preventive dental treatment, we're here to help you achieve a healthy, beautiful smile that lasts a lifetime!
Dental bridges are an excellent solution for patients with missing teeth. They are customized to your unique dental needs and will blend seamlessly with your natural teeth, enabling you to eat, talk, laugh, and smile without hesitation. Dr. Glen Stephenson uses high-quality materials to create dental bridges that are durable and natural-looking. 
Dental bridges offer various benefits, including improving your appearance, restoring your oral function, enhancing your bite and speech, preventing further dental problems, and regaining your confidence. To determine if you are a candidate for a dental bridge, visit your trusted dentist at Prevention Dental today. We can guide you through the process, answer your questions, and ensure you receive quality dental care. Remember, prevention is key to maintaining a healthy smile!
Contact us today to schedule a consultation! We'll thoroughly examine your teeth and gums and talk to you about your questions and dental concerns to provide helpful recommendations. We'll ensure you are confident in showing your happy, healthy smile during your visit from start to finish!