Family Dentistry in Boise, ID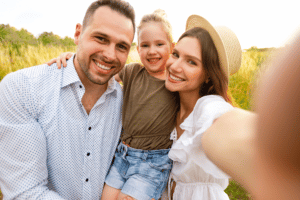 Prevention Dental provides family dentistry care in Boise for your whole families' needs. We love the variety that being a Boise, Meridian, and Eagle family dentist brings. So be it sealants for your little one, braces for a teenager, or a new denture and implants for grandpa, we have you covered in one place.
What Can Family Dentistry in Boise, Idaho Do for You?
1. We love kids and help them feel comfortable and even give them some control during a dental procedure. It is amazing how cooperative kids get with our method!—- OK, the TV's on the ceiling help too….
2. Mom, are you busy? We have the ability to see many children at the same time for their cleanings. This really cuts down on how long you have to be hanging out in our lobby.
3. Treating kids is all about attitude and fun, but when it comes to adults–nothing can take the place of skill. At Prevention Dental, we have the latest technology and practiced skills that give you a healthy, long-lasting smile. So be it a makeover, crown, or just a gently cleaning we would love for you to trust us with your smile.
4. One last thing. Raising kids can be expensive. Prevention is the most cost effective way of caring for your teeth. We work hard to keep dental costs down and it shows in our prices. If you have any questions about the cost of your care, ask us– unlike others, we never hide and are a little bit proud of our good pricing.
Preventive and Periodontal Services
Fluoride application – Topical fluoride delivered by mouth trays, foam, or varnish to aid in the prevention of tooth decay.
Sealants – Composite coatings placed into pits, fissures, and grooves of teeth to reduce places that food can collect and cause decay
Prophylaxis (cleaning) – Routine dental cleanings maintain the health of the supporting tissues (gums and bone) around the teeth.
Root Planing and Scaling – Cleaning for teeth, which have periodontal disease (i.e. deep pockets). This treats the bacterial infection around involved teeth and may be localized or throughout the mouth.
Site-specific antibiotic therapy – Placement of antibiotics to target troublesome periodontal pockets.
Night Guards for Bruxism (clenching and/or grinding) – Often patients who grind their teeth are not aware of their habit, but tremendous damage may be caused as evidenced by tooth wear, sore muscles, headaches, cold sensitive teeth and fractures or breaking of teeth.
TMJ (or TMJD) – Many patients use this acronym to refer to the painful symptoms related to Temporomandibular Joint Dysfunction. Symptoms may include pain in the jaw itself, pain in the muscles of jaw function and limited movement of the lower jaw. This condition is often related to or aggravated by clenching and grinding of the teeth.
We would love to be your family dentist in Boise, ID. Give our office a call to schedule an appointment today.